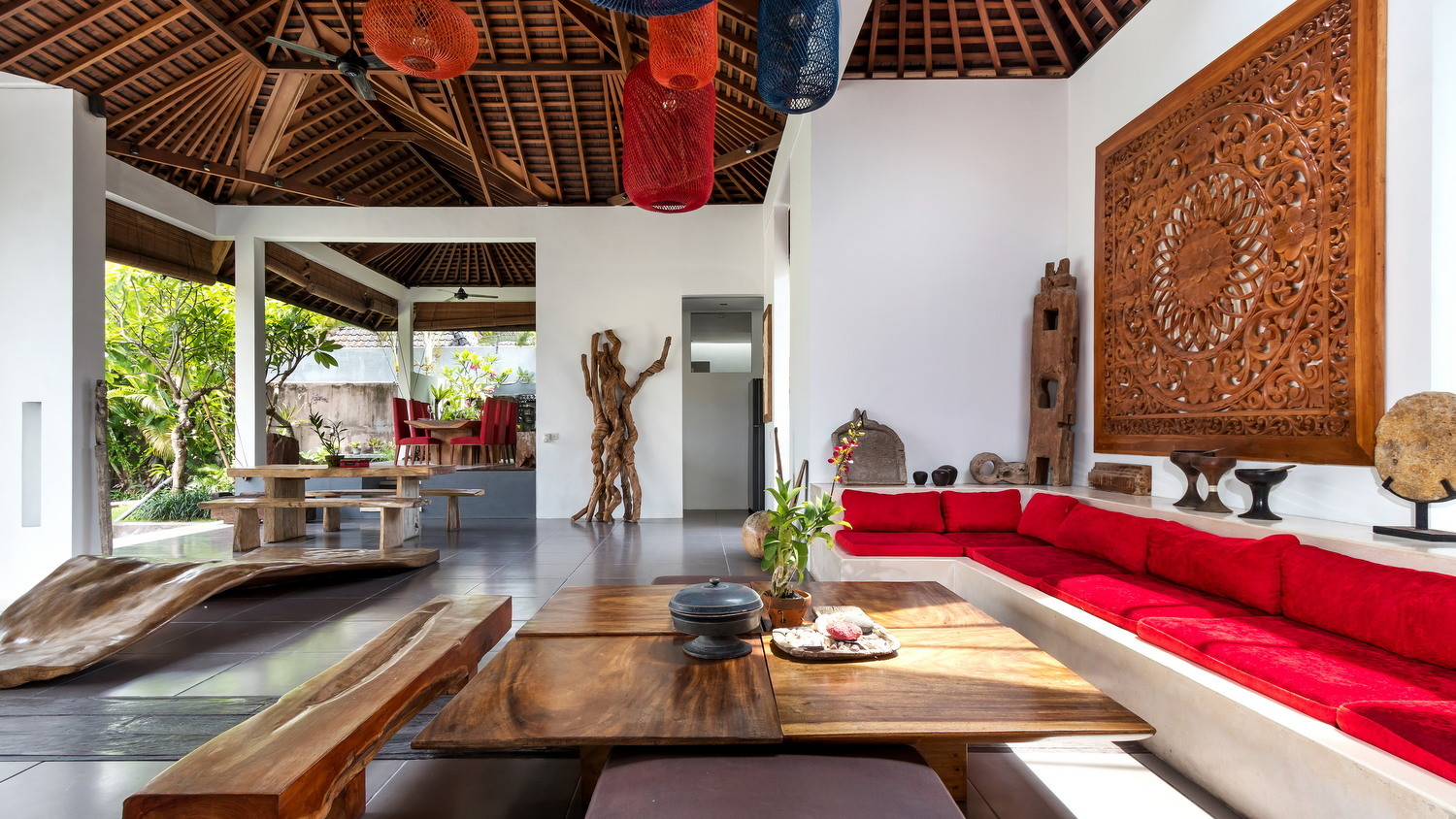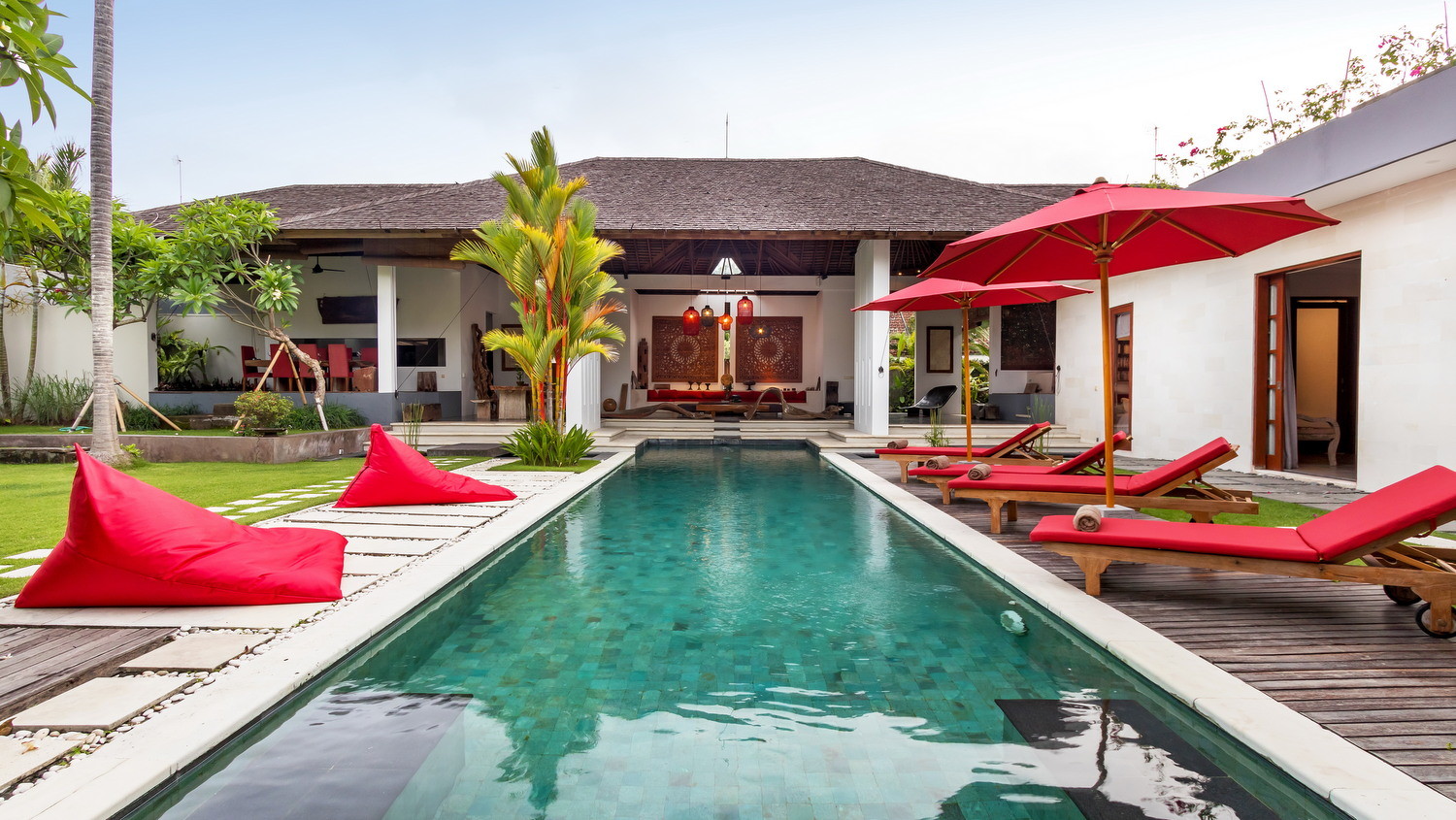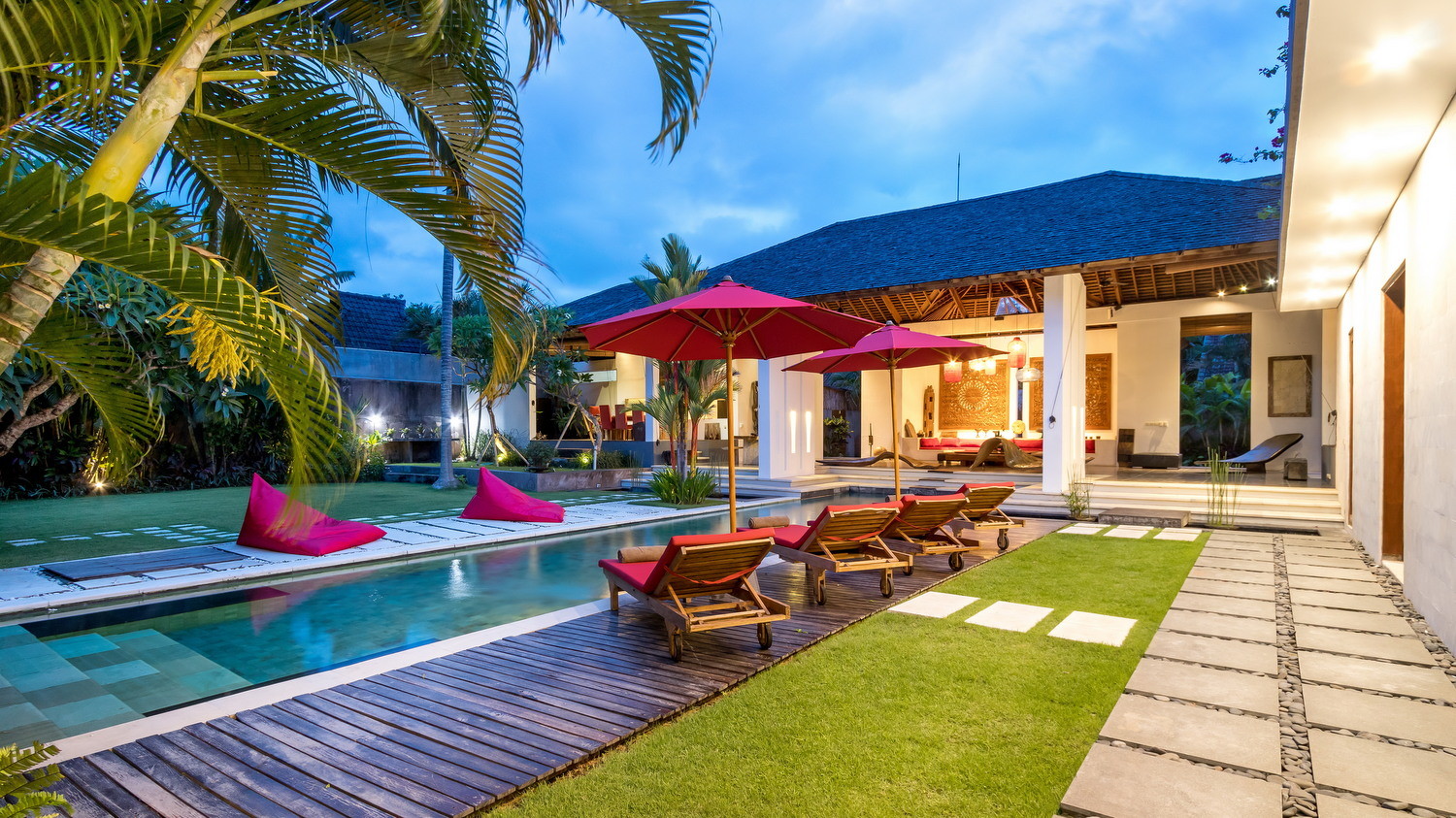 About Villa Arte
Villa Arte might be
the most stylish getaway of Bali's cosmopolitan town Seminyak
and the villa is located right in it's lively center. This
5-bedroom holiday retreat
is spacious, sophisticated and tropical with a
huge private garden
, a swimming pool and a tastefully decorated open-plan living room. The perfect getaway for big traveling groups who like to stay somewhere unique and sophisticated in the heart of Bali's most fashionable and happening beach town.
The Bedrooms
There are
5 perfectly restful villa suites
found within the estate, each
fully air-conditioned
and adjoined by private tropical open-air en-suite bathrooms to
shower alfresco style beneath the blue or starlit sky.
All the rooms are spacious, decorated with ethnic artwork and ruled by natural earthy tones.
The master bedroom features full-length glass sliding doors that open up straight to the pool deck for those who like to go for an early morning swim. The king-size bed lies on a timber plateau draped in elegant white curtains.
The three guest bedrooms are also fitted with a large king-size bed and the last bedroom is equipped with 2-single beds and sharing bathroom.
The living area
Guest villa enter Villa Arte in the
airy open-plan living room
of the estate, featuring a wonderful view of the garden and
direct access to the inviting swimming pool.
The living space exudes style and elegance, blending the contemporary with the traditional seamlessly. Villa Arte features a traditional high soaring rooftop and the interior design is ruled by an
amazing collection of artwork.
A large built-in sofa, tucked with chic red pillows stands in the center of the room. The best place to sit back with a good book or a nice drink. The dining area is found on an elevated plateau to your right, adjoined by a fully equipped western kitchen. To your left, there is a
TV lounge corner
, perfect for watching movies all together on family evenings spent indoors.
Outdoor and pool area
Even though Villa Arte is located in the centre of Seminyak, the garden is wonderfully huge, like a
secret paradise
. Lush greenery grows all around the manicured green grass lawn, perfectly suitable for holding
garden BBQs
in your holiday home on Bali island. Kids can freely run around or play in the shade of a tree, while you swim laps in the large
sparkling 15-meter swimming pool.
After that wonderful cool-downin the pool, you can soak up the sun, catching a gorgeous tropical tan. Comfy reclining chairs are placed on the poolside timber deck.
Staff and services
Villa Arte comes with a
complete team of staff
, assisting guests where needed, taking care of the household and keeping guests safe at all times.
Around Villa Arte
The location of Villa Arte couldn't be more
central
. Within walking distance of the villa, you will not only find
Seminyak beach
with all of its charming beach bars such as La Plancha, but also
lively and colorful streets full of boutique shops, fashion stores, souvenir stalls, cafés, spas and restaurants
. A short drive (or a 20-minute walk) will get you to the celebrated 'eat street' in the Oberoi district of Seminyak and a bit further you can lounge and sip cocktails at Seminyak's famous beach clubs such as KU DE TA and Potato Head. The
Bintang supermarket
awaits just a short walk from the villa, to get your groceries and it takes less than 30 minutes to get to the international airport of Bali.
Click here to see all 58 villa pictures
Here are our availabilities for the next few months:
Villa Finder has been directly appointed by Villa Arte's owners to distribute their villa. Here are the direct listings:
Minimum stay
3 bedrooms
4 bedrooms
5 bedrooms
from 11/01/2020 to 24/01/2020
Low season
3 nights

USD $

410

USD $

450

USD $

480

from 24/01/2020 to 01/02/2020
High season
5 nights

USD $

530

USD $

570

USD $

600

from 01/02/2020 to 09/04/2020
Low season
3 nights

USD $

410

USD $

450

USD $

480

from 09/04/2020 to 14/04/2020
High season
5 nights

USD $

530

USD $

570

USD $

600

from 14/04/2020 to 01/06/2020
Low season
3 nights

USD $

410

USD $

450

USD $

480

from 01/06/2020 to 01/07/2020
Mid-high season
3 nights

USD $

440

USD $

480

USD $

520

from 01/07/2020 to 01/09/2020
High season
5 nights

USD $

530

USD $

570

USD $

600

from 01/09/2020 to 01/10/2020
Mid-high season
3 nights

USD $

440

USD $

480

USD $

520

from 01/10/2020 to 20/12/2020
Low season
3 nights

USD $

410

USD $

450

USD $

480

from 20/12/2020 to 11/01/2021
Peak season
7 nights

USD $

560

USD $

600

USD $

630